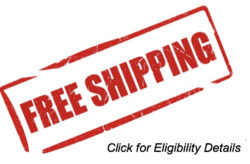 Apex Sciences Free Shipping Program
Apex Sciences has listened to our customers! Though our competitors have $15 handling fees plus high shipping costs, Apex is not going along. Apex has never had handling fees and now offers free UPS Ground Shipping in the continental United States. This offer applies to orders placed through Apex Sciences for, chambers, vacuum hardware, vacuum valves, vacuum gate valves and rotary seal feedthroughs. Electrical feedthroughs are not covered in this free shipping program at this time.
This offer does not apply to the following:
Orders less than $100 excluding shipping and taxes.

 Orders where shipping is not UPS Ground. This includes freight, and express shipping orders.
Apex Sciences reserves the right to end this program at any time.