Diffusion Pump Heaters for all OEM Pump Manufacturers 
DIP Heaters for Varian, Leybold, Edwards, CVC and Cooke
Direct Replacement for all Major Brands of Diffusion Pumps
Over 100 Combinations of Electrical Ratings and Casting Sizes From 2″ to 48″

Over 25% Less Expensive than OEM Pricing

"Full Power" heaters that produce 20% more heat than

OEM heaters D

rop In Replacement Diffusion Pumps Heaters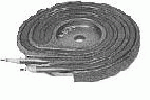 Schoonover Diffusion Pump Heaters provide a design that is more powerful and cost effective than OEM replacements. The designs are manufactured to fit form and function. Our one piece assembly simplifies installation. Alignment is not a problem and the design the crush plate design makes for easy install. The tubular heating elements in the Dalton Diffusion Pump Heaters are swaged in a grey iron casting under 50 tons per square inch of pressure.
We can provide drop in diffusion pump heater replacements for heaters 2″ to 48″. We can also do custom diffusion pump heaters on foreign or obsolete designs. See a typical diffusion pump heater configuration below which details our design.
The surface of the Diffusion Pump Heaters have a very smooth bottom plate design for very efficient and uniform heating surface. This quality ensures steady vaporization of the pump fliud.
This design is especially effective in oversize bores.
u8x7co8