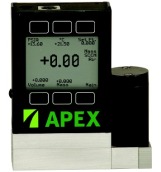 Apex Pressure Controllers
Apex Pressure Controllers for vacuum and non-vacuum applications combine pinpoint accuracy with flexibility to specify your application's parameters. Apex Pressure Controllers have the flexibility to configure your own valve orientation to your application specifications, to choose your digital and analog input / output communication preferences, and a vast process connection selection. From high pressure to low pressure to closed volume and open volumes, and even back pressure there is an Apex PC configuration for your application. The ability to measure and control up to 26 Apex devices through one RS232 or USB port, provides your set-up the ultimate amount of flexibility. Choose from the configurations below to find the PC that will best fit your application.
Applications:
Vacuum Evaporation
Membrane Testing
Vacuum Sputtering
Plasma Deposition
Thin Film Coating Systems
High Temperature Furnace Pressure Control
E-Beam Coating Systems
Hydrogen Fuel Cell Research
University Research
Filter Characterization
Advantages of Apex Gas and Water Flow Devices
Flow up to 130 different gases with 1 Apex Flow Meter

Pinpoint Pressure Accuracy

200 to 1 Turn-down Ratio, control 1/200 of the full scale range

High Accuracy with error never exceeding more than 1%

Control up to 26 Apex devices with one Computer or PLC

Ultra-Fast Millisecond Response Time

Tune-able PID algorithm

No Warm-up Time Needed for Start-up

Pressure Range from 0.1 Millitorr to 26,000 Torr Full-Scale

Digital Display as well as digital and analog communication options

9 potential units of pressure measurement, specified at order

The Low Cost and  High Tech Solution
Apex Pressure Controllers are in use all over the world in both Research, Analytical, and Industrial Applications. Both OEM equipment builders and some of the worlds finest researchers have already taken advantage of the technological benefits and low prices of Apex Vacuum Mass Flow Controllers, Meters, and Pressure Controllers, now it's your turn!
Additional Informative Links