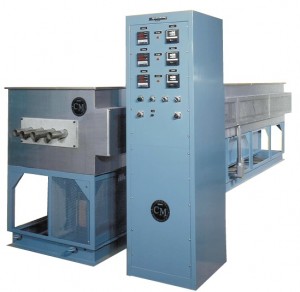 CM High Temperature Strand Annealers
CM FURNACES, Inc. manufactures a full line of strand annealing furnaces for wire, rod, tube and strip applications. Schoonover, Inc. can work with you to specify a complete strand annealing system.
Strand anneal furnace designs are available for processing copper, copper alloys, nickel. nickel-chrome, titanium, stainless steel, molybdenum, tungsten, rhenium, and other specialty alloys. Inert or reducing atmosphere control is provided for each process tube.
Process tubes are carefully supported to minimize warping. Multiple zone heating assures process temperature requirements are maintained during anneals.
200 Series
The 200 Series line of continuous strand annealers are available in three temperature ranges including; LTSA 1000°C (1850°F), SA 1200°C (2200°F) and HTSA 1700°C (3100°F). The furnaces are available with up to twenty process tubes each with individual atmosphere control. Atmosphere options include air, nitrogen, argon, hydrogen or dissociated ammonia. Various heated lengths with single or multiple zone control are available, as well as cooling sections and optional features for specific applications. Continuous annealers available for wire, rod, cable and strip material
Click Here For More Information