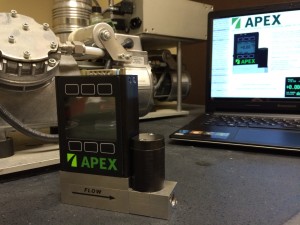 Apex Water Flow Controllers and Meters
Apex Liquid Flow Controllers combine accurate measurement with fast control for distilled and de-ionized water. Just like with our Apex Gas Flow Meters and Controllers, the Apex Water Flow Meters and Controllers use differential pressure measurements across a laminar flow stack to measure flow precisely. Although used for water flow applications, the Apex Water Flow Meters and Controllers have the same communications and controls as our gas units and are easily integrated into any system. We are here to help in the configuration of your water flow unit to any application or control system you may have. We provide control and meters from flows as low as 0.5 CCM (cubic centimeters per minute) to 10 LPM (liters per minute). All units come standard with constant in-line temperature measurement as well as the option to add pressure measurement. There are also other options that include a portable battery pack for the water flow meter as well as special fittings and electrical connections to fit your application. Please consult your Apex sale representative if you would like to discuss additional options for your Apex Water Flow Controller or Water Flow Meter.
Applications:
Research and Development
Water Cooling Systems
Gas and Vapor Mixing
Chemical Plants
Serial Temperature Measurements
Liquid Mixing
Water Flow Totalization
Advantages of Apex Gas and Water Flow Devices
Constant Temperature Measurement with optional Pressure Measurement

Fast 20 millisecond valve control

50 to 1 Turn-down Ratio

High Accuracy with error never exceeding more than 2%

Control up to 26 Apex devices with one Computer or PLC

No additional rack mounted control board, power supply boxes, or display supplies needed

No Warm-up Time Needed for Start-up

Easy communication with RS-232 and Analog Communication with every unit

The Low Cost and  High Tech Solution
Additional Informative Links
Apex Water Flow Controllers and Water Flow Meters are in use all over the world in both Research, Analytical, and Industrial Applications. Both OEM equipment builders and some of the worlds finest researchers have already taken advantage of the technological benefits and low prices of Apex Vacuum Mass Flow Controllers, Meters, Pressure Controllers, and Water Controllers. Now it's your turn!