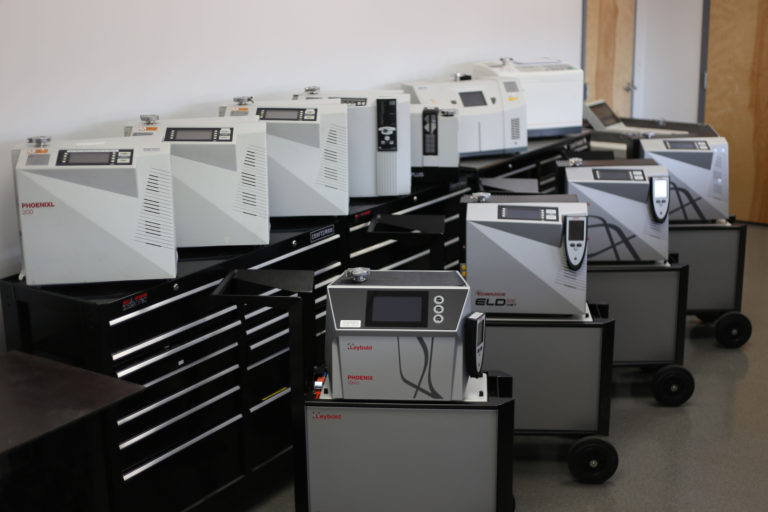 Helium Leak Detector Repair & Service
Helium leak detectors are costly and  sophisticated instruments that should receive preventative maintenance on a regular basis to insure the leak detector is ready when needed.  Inside the helium leak detector is a roughing pump, high vacuum turbo pump, vacuum gauging and a magnetic sector mass spectrometer necessary to create the vacuum needed for operation. Recommended service for helium leak detectors include:
Oil changes in the roughing pump usually after 1500-2000 hours of service.
Preventative maintenance cleaning/tune up on a yearly basis
Turbo service/exchange on most models after about 20,000 hours
Calibrated leak re-calibration on a yearly basis at an A2LA accredited facility (if required)
We provide all these services along with providing helium leak detector repair on units with mechanical, vacuum or electrical issues. Turn around time is usually 1-2 weeks for basic PM services.
Quotes for helium leak detector repair can be obtained by using the Helium Leak Detection Support Dashboard. There you can get service RMA's along with product information, product and accessories quotations, arrange rentals and technical support.
Helium Leak Detector  Repair & Service
Repair-Preventative Maintenance- Calibrations
Helium Leak Detectors Serviced & Repaired
Leybold Leak Detectors
Phoenix Vario
Phoenix Quadro
Phoenix Magno
Phoenix L300i
Phoenix L300i Modul
Phoenix L300i Dry
PhoeniXL 300
PhoeniXL 300 Modul
PhoeniXL 300 Dry
Leybold L200
Leybold UL 200
Leybold UL 200 dry
UL 200 Modul
UL 500
UL 100
Ultratest F
Inficon Leak Detectors
UL 200
UL 1000
Modul 1000
A2LA Calibration of Calibrated Leaks
Providing annual NIST traceable re-calibrated leak services meeting International Standard ISO/IEC 17025:2005 and ANSI/NCSLI Z540-1-1994. This service can be done during the annual PM or by sending the leak in for yearly calibration. Customers receive a calibration certificate and label for placement on the unit indicating the calibration.
Pfeiffer Adixen Alcatel Models
Alcatel Adixen ASM 142
Alcatel Adixen ASM 142 Dry
Alcatel ASM 180
Alcatel ASM 120H
Pfeiffer SmartTest 550, 560, & 570
Pfeiffer ASM 340
Pfeiffer Adixen ASM 182
Pfeiffer Adixen ASM 192
Basic maintenance on all other models
Agilent Technologies Varian
VS MR15
VS MD30
Other VS Series
Edwards
ELD500
For Expert Assistance, Please Give Us a Call or Use Our Contact Us Link.
We would love to hear from you!