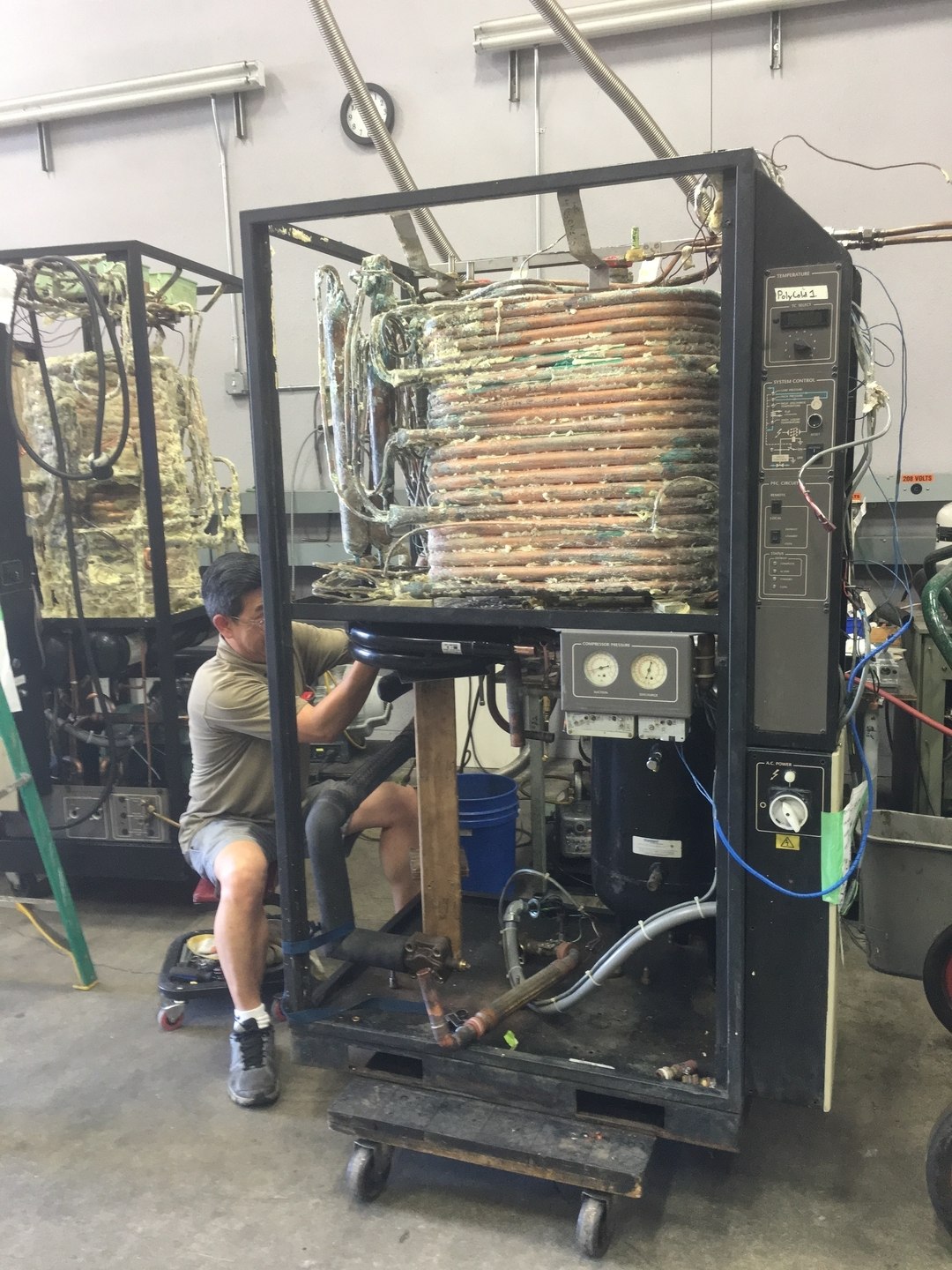 Purchase Refrigerant, Lines & Parts

Some Applications
Vacuum Metalizing
Sputtering
Vacuum Furnaces
Optical Coating
Glass Coating
Vacuum Chambers
Vacuum Coating Systems
Starting in 1999, Schoonover  has sold water vapor cryo-traps to OEM's & end users. In 2005, Polycold was sold and we lost the product line. But our Experience carried on and we combined forces with a former Service Manager to continue to assist customers in service & support. In our manufacturing facility, we choose to emulate as close as possible to the Original Equipment used on the original build of the unit. Combining our Sales Experience and best in class Customer Support, we have quickly become the predominate service provider of equipment, service and installation. Products wise, we Upgrade Older Units while providing Lower Pricing on all refrigerants (both old & "green gas 02 blends).
Polycold Service
Breakdowns of production equipment are costly from a physical cost standpoint. But the loss of production is usually more costly than the repair cost. When it comes to Polycold Service, we provide field service, in-house rebuild, refrigerant charges, upgrades to new refrigerants and more to all brands of water vapor cryopumps (Polycold, Telemark & MegaCold). Our highly skilled service technicians have many years of service experience and our rebuild techniques replicate the original manufacturing as closely as possible. Units being returned or sold to you are rebuilt with the same techniques and equipment as the original manufactured Polycold. Units are heat load tested to insure quality and that they meet new Polycold specifications or better.
Customer Support
Customer service and sales support start with Our Polycold Dashboard. The Polycold Dashboard allows customers an interface to get the information, quotes and services needed in a quick and efficient manner. We know you have other jobs to do and we can handle this one for you. Using us instead of the OEM saves you time, money, and aggravation. We provide technical support for all customers during regular business hours.
We bring the service to your door. Our Field Service Team provides field service throughout North and South America to help with repair of units on-site, installation of new Polycolds and Preventative Maintenance Programs on an annual or bi-annual basis.
Preventing Obsolescence
Extending the life of older equipment saves customers money. In 2020,  a component gas of the refrigerant used in units ending in 0 (such as PFC 1100HC, PFC 670HC or PFC 550HC) ceased in production leaving these older units to become obsolte as this gas is no longer available. In addition the refrigerant in these units is ozone depleting. Our technicians can re-work these older units to take the newer "green" refrigerants, By sending these units to us for upgrade, you save money and help the environment.
Services Provided
-Refrigerant Charges 00 and 02 Gases at discounted pricing)
-Totally Rebuilt Units with New Compressor -- Full 12 Month Warranty
-Repair Service at our California facility
-On-Site Repair Service
-Cryo-Coil Design and Fabrication
-Spare Parts
-Upgrades of older Polycolds to use more Eco-friendly refrigerant gases
-PM Program Available to Prevent Unscheduled Shutdown
Product & Service Information

Refrigerant Charges
Schoonover provides replacement refrigerant charges for all models, from the P-75 to the PFC 1102HC. The refrigerant charges are a mixture of gases that enable the unit to cool from room temperature to cryogenic temperatures. In addition to full charges, Top Off Charges are also available if the charge is mostly intact in the unit but the lighter gases have been released. Refrigerant Charges ship Fed Ex on a worldwide basis. Please note: some countries do not allow non-Kyoto compliant gases into their countries (such as the EU). In those cases, your Polycold would need to be rebuilt to handle the compliant gases. Therefore, contact us for more information.

Rebuilds/Service
Schoonover can provide service and rebuilds of your Polycold units in our California facility. Incoming units are quoted for all consumable parts replacement. Rebuilding includes new foam in the stack and helium leak checking the copper coils. Once the unit is leak checked, the compressor is tested and replaced if necessary. The unit is then outfitted with a new refrigerant charge and fully tested before being boxed up for return. Warranty is 12 months for the parts/work replaced. Our factory is equipped with the same foaming and heat load test equipment as originally used at the manufacturing facility to ensure your unit returns as close to "new" as possible.   To set up service, contact us for an RMA (Return Material Authorization) number to note on the shipping documents. Once you have received this number, we will send you shipping instructions.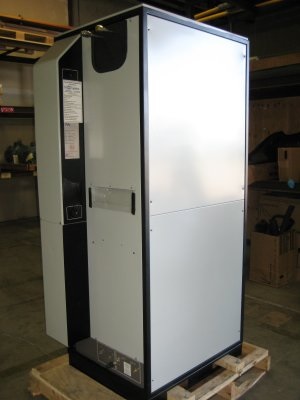 Rebuilt Polycolds
Do you need additional water vapor cryopumps for your chamber systems? As an alternative to the high cost of new capital, why not consider a rebuilt chiller? We can provide you a fully rebuilt unit with a new compressor covered by a 12 month warranty. In addition, (we) provide a unit that has the Kyoto compliant "green gas" charges. Pricing for the rebuilt unit is approximately 60% the cost of new. Since all rebuilt units have a new compressor, fresh consumables and a new charge, the unit should be ready to run for an extended period of time. Therefore, long-term cost of ownership is comparable to a new unit.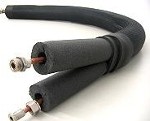 Refrigerant Lines & Spare Parts
Needed accessories for installation include refrigeration lines between the Polycold and the cryo-coil. Just specify the length and if you want Parker or Cajon Fittings.  Also, indicate if the connections need to be 3" off-set or even. Spare parts are also available.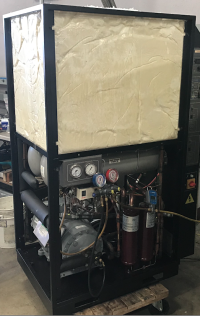 Field Service
Field service repairs are provided on all models. Trained service technicians from our California facility can provide preventative maintenance plans/services and/or field repairs. In addition, priority service for situations where production is down can usually be accommodated.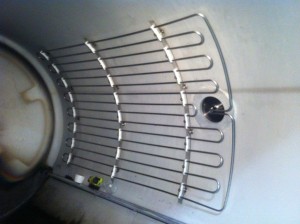 Cryocoil
We design and fabricate cryo-coil designs for all models. Our engineers can take your chamber data and design a coil that fits into that space. This custom coil design provides maximum efficiency for pumping water vapor. Also available is installation of the cryocoil. To get started, provide pictures of the areas in your vacuum chamber system where a cry-coil could be located.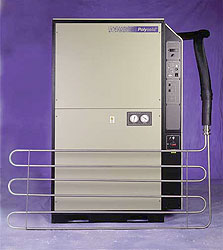 Upgrades
At some point in the near future, refrigerant for Polycold units ending in 0 (ex. PFC 1100HC) may not be available due to R-22 no longer being manufactured. These environmental regulations will result in older units needing to be rebuilt in order to meet new Kyoto compliant "green" refrigerant gas requirements. Our shop can handle this upgrade with the cost being approximately 30% of new. This upgrade will make existing units compliant with the new refrigerant regulations and allow tehm to run to specification with the new refrigerants. 
For more information, check out this article about the market for R-22 after 12/31/2019 and our Blog Post on the elimination of R-22 Refrigerant
High Cost of Poorly Functioning Polycolds
Why Rebuilding a Unit is Cost Effective
Cost of fully rebuilding a unit is < 40% the cost of new


Rebuilding a unit will extend the life for many years

Water vapor in chamber can cause product quality issues

Ineffective Units cost production time (Longer Pumpdowns)

Refrigerant Leaks are an environmental issue

Rebuild process can identify Issues Before They Happen
Why Choose Our Remanufactured Polycold Chiller
---
1. Our Technicians are trained by a former Polycold Service Manager.
2. Equipment used in foaming & testing all remanufactured units is the same used in the original manufacturing.
3. Temperature load testing is completed on every unit verifying that the unit can handle the specified heat load.
4. Compressors are fully tested and if needed replaced by new, not rebuilt original equipment compressor.
5. Warranty of 12 months on refurbished units and 12 months on parts/labor replaced in our factory on your rebuilt units.
Models Serviced
PFC-1100HC
PFC-1100ST
PFC-670HC
PFC-660HC
PFC-550HC
PFC-550ST
P-75
P-100
PGC-100
PGC-150
PFC-200
PFC-330
PFC-400
PCT-500
PCT-550
PCT-650
PFC-650
PFC-1100LT
PFC-1101HC
PFC-400LT
PFC-550LT
PFC-1101LT
PFC-102
PFC-552HC
PFC-662HC
PFC-670HC
PFC-1102HC
Max-Cool
Telemark™ TVP CryoTrap