SCROLLVACplus 7 ,10, 15 & 18 Scroll Vacuum Pumps
ECODRYplus 40 & 65 Multi-Stage Roots Vacuum Pumps
SCROLLVAC - Dry Scroll Vacuum Pumps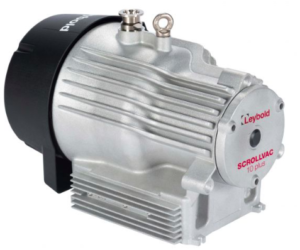 Dry Roughing Scroll Vacuum Pumps- SCROLLVAC
No Oil, Absolutely Dry Scroll Technology

Pump bearings isolated from the vacuum space eliminating any risk of contamination

Integrated gas ballast permits pumping of condensable vapors

Robust pump with high vapor capacity for industrial & laboratory applications

Low Power Consumption/Air Cooling

Single-phase variant feature universal voltage drive for constant performance world-wide

No shaft seal to wear resulting in longer service intervals 

Optional C variant may be used for some applications involving the pumping of aggressive gases
Applications
Oil-free scroll vacuum pumps well-suited for use in all applications which require a dry and clean vacuum:
Electron beam welding
Lasers
Leak detection systems
Accelerators / synchrotrons
Surface analysis instruments
Scanning electron microscopes
Load lock / transfer chambers
Spectroscopy
Lamp manufacturing
Backing pump for turbomolecular pumps
Scrollvac 7 Plus , 10 Plus, 15 Plus & 18 Plus
Scrollvac is designed to perform across a wide spectrum of applications from laboratory to light industrial. The Scrollvac provides industry leading performance handling water vapor along with the longest maintenance service interval. C Variant versions employ chemical resistant exhaust check valve and gas ballast valve, along with stainless steel inlet and exhaust flanges.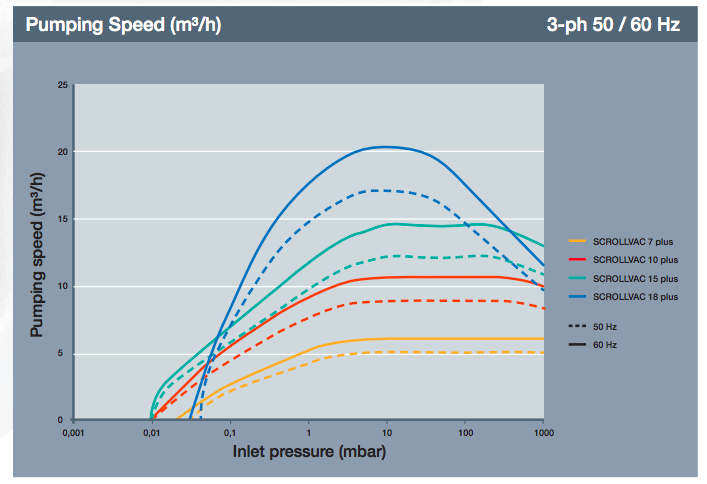 ECODRYplus 40 & ECODRYplus 65 Dry Vacuum Pumps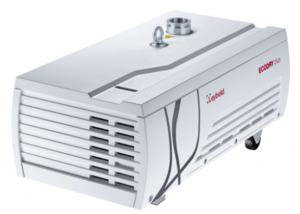 ECODRYplus Dry Vacuum Pump Technology
No Oil - Total Dry Multi-Stage Roots Technology

Contact-free pump design produces no wear particles

Low-power drive unit ensures highest energy efficiency

The pump needs no auxiliary materials and no maintenance by the customer.

Integrated gas ballast for pumping high concentrations of water vapor.

Quiet operation for better work environment -52 dB(A)
Applications
Minimal vibration for ultra-sharp microscopy
Cryo-pump regeneration
Analytical instruments like mass spectrometers
Backing pump for turbomolecular pumps
ECODRYplus 40 & ECODRYplus 65
The ECODRY plus is a family of dry-compression multi-stage Roots vacuum pumps, which operates quietly at 52 dB(A). The ECODRY plus had been specially designed for use in quiet and clean environments. ECODRY plus provide clean non contacting  vacuum at maximum pumping speeds of 40 and 55 m³/h.  Maintenance intervals are measured in years.
The pumps are based on the multi-stage Roots pumping principle with two contactless rotating rotors turning in opposite directions. Through their rotation the gas is moved from the inlet to the exhaust. By the effect of multiple pumping stages the gas is compressed from medium vacuum range to ambient pressure.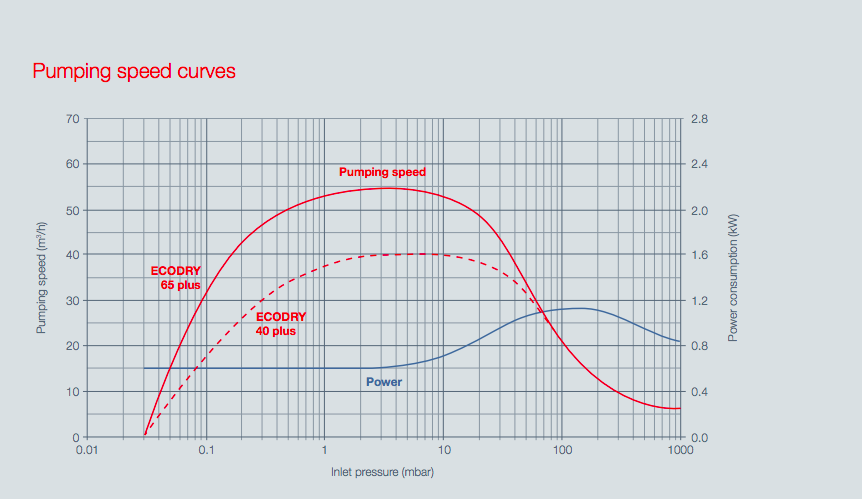 The ECODRYplus Quiet & Economical
Another Day in the Lab- ECODRYplus 40 & ECODRYplus 65
SCROLLVACplus Family
Replacing Tip Seals on the SCROLLVACplus