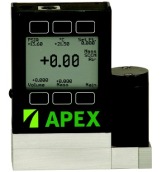 Apex Pressure Controllers
Control from Atmosphere to Low Milli-torr Range  
Apex Pressure Controllers for vacuum applications combine pinpoint accuracy with flexibility to specify your application's parameters. Apex Pressure Controllers can be used in a number of different ways to control vacuum pressure. Vacuum sensing can be from our on-board 0-30 psi sensor to using a vacuum gauge installed on your chamber or system. Dual valve pressure control is available for closed systems. Apex Vacuum Pressure Controllers can be combined with our mass flow controllers & meters on our BB9 hub to control up to 26 devices with one computer.
Applications:
Vacuum Evaporation
Membrane Testing
Vacuum Sputtering
Plasma Deposition
Thin Film Coating Systems
High Temperature Furnace Pressure Control
E-Beam Coating Systems
Hydrogen Fuel Cell Research
University Research
Filter Characterization
Advantages of Apex Pressure Controllers
Pressure Range from 0.1 Millitorr to 26,000 Torr Full-Scale

Pinpoint Pressure Accuracy

50-100 millisecond response

Tune-able PID algorithm

Custom valve orifice sizing yields full-range control

Control up to 26 Apex devices with one Computer or PLC

No Warm-up Time Needed for Start-up

Available with Capacitance Diaphragm Gauges 1000, 100, 10, 1 torr vacuum gauge sensors

Digital Display as well as digital and analog communication options

9 potential units of pressure measurement, specified at order
Apex Pressure Controllers are in use all over the world in both Research, Analytical, and Industrial Applications. Both OEM equipment builders and some of the worlds finest researchers have already taken advantage of the technological benefits and low prices of Apex Vacuum Mass Flow Controllers, Meters, and Pressure Controllers, now it's your turn!
Additional Informative Links
Types of Apex Vacuum Pressure Controllers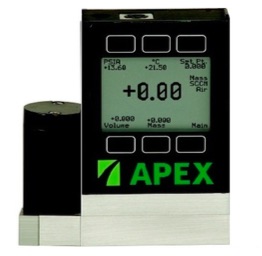 Apex Pressure Controller with on-board 0-30psia sensor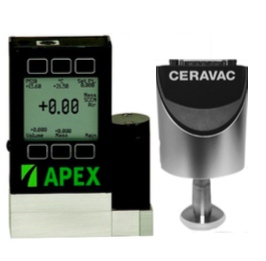 Apex Pressure Controller for 1 mtorr to 760 torr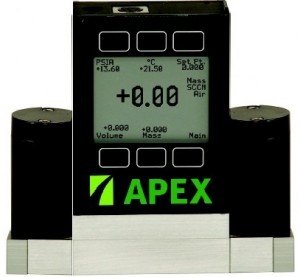 Apex Dual Valve Pressure Controller 
Apex Vacuum Pressure Controller
The Standard Apex Pressure Controllers have pressure ranges from around 4 torr to 760 torr for vacuum applications. Pressure controllers can be designed for in-line or back pressure configurations. Set points can be given to the device through analog, digital or direct input through the control pad on the device. Various valves can be used on the pressure controller for different flow ranges. One common application is to bleed a gas into the vacuum system to maintain set pressure while the system is actively pumped. 
Apex Millitorr Pressure Controllers 0.1 Millitorr to 760 Torr
The Millitorr Apex Pressure Controllers for rough vacuum applications have pressure ranges from 0.1 Millitorr to 760 Torr. Using an external Capacitance Diaphragm Gauge (CDG), the Millitorr Pressure Controller can accurately control pressure for all of your rough vacuum applications. CDG ranges are typically 3 or 4 decades of resolution with full scale values of 1000 torr, 100 torr, 10 torr and 1 torr. The CDG is typically mounted on your system or chamber and then connected to the pressure controller connected to the gas input line. 
Apex Dual Valve Pressure Controllers 8 Torr to 760 Torr
The Dual Valve Apex Pressure Controllers have pressure ranges from 8 torr to 760 torr for vacuum applications and valves on both the inlet and exhaust. The Apex Dual Valve PC is the prefect tool for pressure control for closed systems due to its dual valve system. This system allows pressurizing as well as exhausting of your chamber or test piece while maintaining consistent pressure all with one device. A fourth sensing port is available located in the front of the device.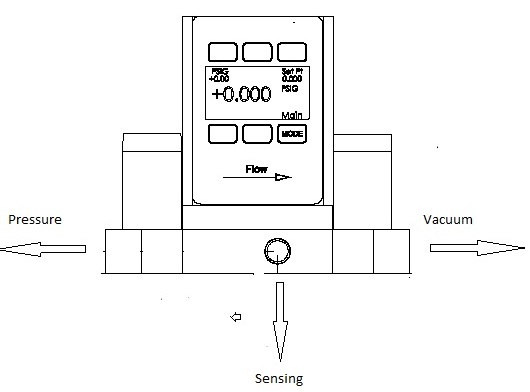 Apex Dual Valve Pressure Controller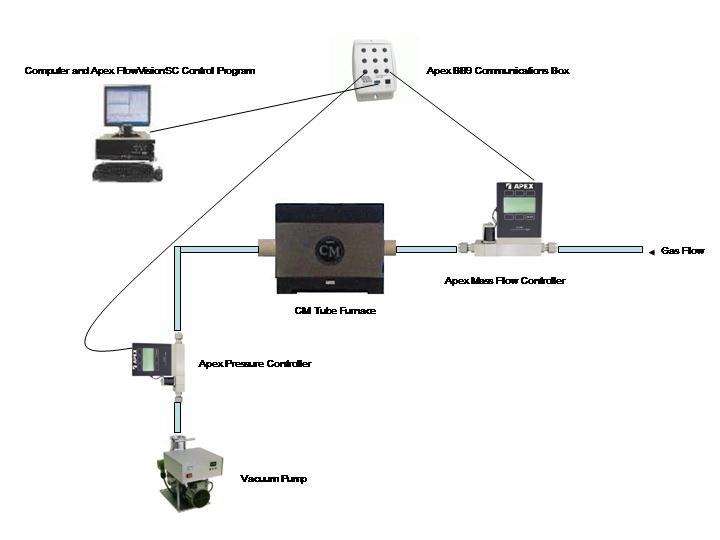 Apex Pressure Controller -Tube Furnace w/ Vacuum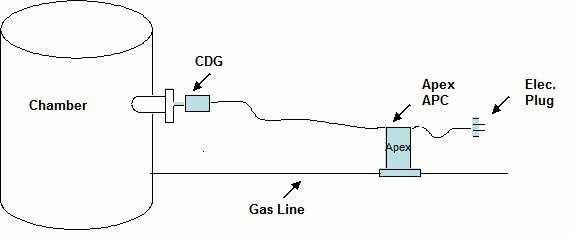 Apex Pressure Controller -Vacuum Chamber Set-Up