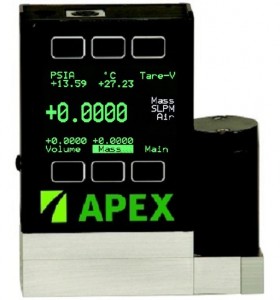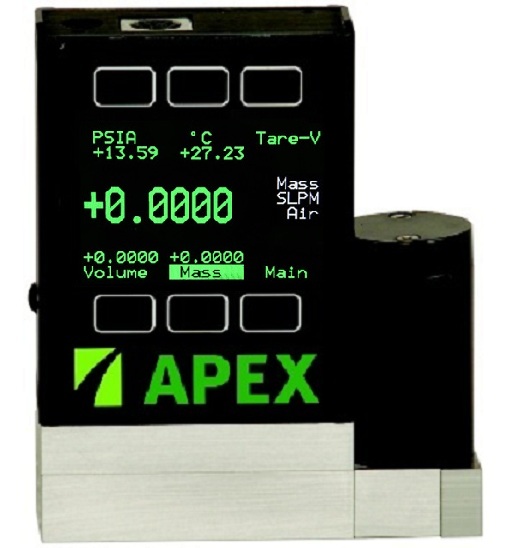 APEX Mass Flow Controllers, Meters, and Pressure Controllers
Apex Mass Flow Controllers, Mass Flow Meters, and Pressure Controllers for vacuum and non-vacuum applications combine pinpoint accuracy with flexibility. All Apex Meters and Controllers have the flexibility to measure and control over 130 on-board gases, to choose your digital and analog input / output communication preferences, and a vast process connection selection. The ability to control up to 26 Apex devices through one RS232 or USB port, provides your set-up the ultimate in flexibility.
Types of Flow & Pressure Instruments We Offer
Mass Flow Controllers - Inert, Aggressive & Refrigerant Gases
Mass Flow Meters - Inert, Aggressive & Refrigerant Gases 
Battery Powered Mass Flow Meters - Inert, Aggressive & Refrigerant Gases
Pressure Controllers - Pressure & Vacuum
Applications:
Vacuum Evaporation
Membrane Testing
Vacuum Sputtering
Plasma Deposition
Thin Film Coating Systems
High Temperature Furnace Gas Control
E-Beam Coating Systems
Hydrogen Fuel Cell Research
University Research
Gas Mixing
Advantages of Apex Gas and Water Flow Devices
Flow up to 130 different gases with 1 Apex Flow Controller or Apex Flow Meter

Pinpoint Flow Accuracy

200 to 1 Turn-down Ratio

High Accuracy with error never exceeding more than 1%

Control up to 26 Apex devices with one Computer or PLC

Ultra-Fast Millisecond Response Time

No Warm-up Time Needed for Start-up

Flow Range from 0.5 sccm to 1500 slpm Full-Scale

The Low Cost and  High Tech Solution
Apex Mass Flow Controllers and Mass Flow Meters are in use all over the world in both Research, Analytical, and Industrial Applications. Both OEM equipment builders and some of the worlds finest researchers have already taken advantage of the technological benefits and low prices of Apex Vacuum Mass Flow Controllers, Meters, and Pressure Controllers, now it's your turn!
Power
Apex systems are powered by 7-30VDC Power Supply or our PVPS24U wall mount that use universal adaptor for worldwide use. Expensive display or power supple boxes are not needed.
Communications
There are 5 options to communicate with your Apex: 0-5V Analog Signal,  0-10V Analog Signal, 4-20 MilliAmp Signal, RS-232 (Standard on all Apex devices), and Device Keypad (Standard)
Multiple Apex Units 
Multiple Apex Devices can be linked together with the BB9 Communications Box. This box uses addressable RS-232 to communicate with all Apex units connected. The BB9 connects directly to a computer via USB port.
Connection & Gas Options
Industrial Connectors/ 15 Pin, D-Sub Connectors / Weldable VCR Gas Inlet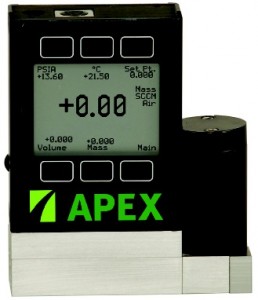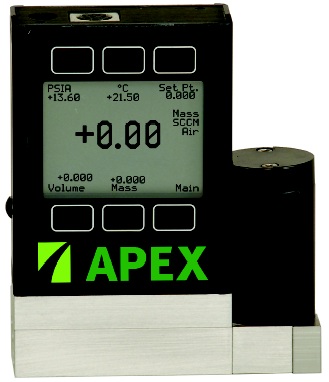 Feature Options Available
Totalizer / Flow total Gas Blends / Up to 4 Low & High Alarms Secondary Output / High Accuracy Calibration
Cables 
Single ended 8 pin DIN to blank wires 6 ft (DC-61) and 25 ft. (DC-251). For connection with our BB9, double ended DC-62 andDC-252. An MD8DB9 -USB connects the BB9 to a computer
Purchase Apex Mass Flow Devices

(Apex Vacuum Website)
Software
FlowVisionSC software allows set point control, select gases, and collects and graphs data. LabView Drivers are available for download. Gas mixing software is also available.