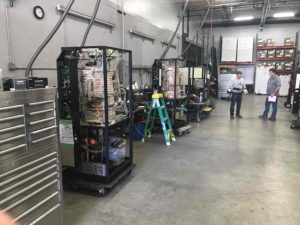 End of this year 2019, the R22 Refrigerant Gas is being phased out of production. This phase-out will affect users with older Polycolds have the older refrigerant that Kyoto Protocol in reducing the emitting of greenhouse gases. Polycolds ending on a zero such as PFC 1100HC, are the older units affected. This does not mean that come 2020 we cannot support your older Polycold but that the older refrigerant will not be produced and over time stockpiles consumed.
What We Recommend
For Polycolds manufactured over 25 years ago, we think replacement is in order. Options are our rebuilt Polycolds or our new MegaCold Cryo-Traps
We can rebuild your older Polycolds to run with the newer refrigerant mixtures found in the Polycold models ending in 02 (such as PFC 1102HC). Cost of this upgrade is about 40% the cost of new. Watch a video detailing our rebuild process of Polycolds. Polycold Rebuild Video
Feel free to contact us for quotation and more information.
Phone 800-331-2808
E-mail to [email protected]
Contact Form at www.schoonoverinc.com/contact